STUNNA GIRL RETURNS WITH NEW SINGLE "STILL SMOKE"
4841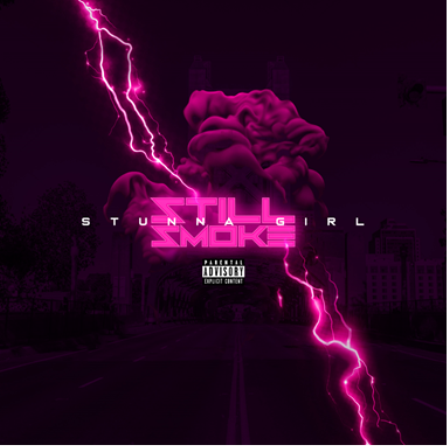 Reupping Axel Foley's classic theme from Beverly Hills Cop, she shreds through the REEFA produced beat with teeth bared and knockout bars on point. Her fiery flow ignites the hook as she promises, "It's still smoke." Meanwhile, the visual intercut vignettes of cash, twerking, and a whole lot of neon as her star power commands the camera's attention front-and-center.
It all sets the stage for the arrival of her debut EP—coming very soon.
She capped off a breakout 2020 with "Rotation." Not only did it generate just shy of 1 million total streams and views, but it also received critical acclaim.FLAUNT Magazine raved, "Stunna Girl is the definition of a bad bitch who's ready to take over the rap game single-handedly."
She dropped a succession of bangers last year. "Runway" clocked 31 million Spotify streams and sparked the #RUNWAYCHALLENGE with nearly 4 million Tik Tok creates. "Like I Said Tho" and "Lil Boy Cash" increased her momentum, while "Rotation (Game Mix)" graced the Madden 2K21 Official Soundtrack.
Get ready for more smoke from Stunna Girl.
Dripping with attitude and ready to inspire confidence, Stunna Girl is ready for her close-up. "I want you to get off the wall. Don't just stand there to stand there!" The /singer created a viral frenzy for her 2019 style anthem, "Runway." After releasing a project independently and inking a deal with Epic Records, she is inevitably poised to be one of Hip-Hop's most anticipated voices of the new decade. "I'm a threat!" she promises. Born and raised in Northern California, music offered a refuge from tragic home life. After dealing with a tough upbringing, which saw her having to balance family problems with her own, she knew that she could draw upon her life experiences as creative fuel. Stunna Girl came out of the other side with a newfound sense of confidence and focus, diving headfirst into fulfilling her long-standing musical dream. In 2019, she became a major player in the local Sacramento music scene and made waves with her independent debut album, YKWTFGO. When the #RunwayChallenge organically exploded on TikTok, she inspired a viral movement facilitated by millions of videos by fans and influencers such as Nikita Dragun, and more. The song proved so gripping that by the end of the year, TikTok proclaimed her as the fourth top artist on the platform for the year, behind only Lil Nas X, Mariah Carey, and Lizzo. Her nimble raps, fearless rhymes, and unapologetic spirit went on to receive attention from TIME, BuzzFeed, The New Yorker, Teen Vogue, and more with Pitchfork saying that there is "no question that women especially may find her confidence genuinely empowering". As she told Genius for their coveted Verified series, she freestyled "Runway" in 30 minutes with the intention of creating a motivational anthem. "When I was in the studio, that's how I felt. Like, 'Bitch, you look like you're fresh off the runway. I really just wanted to keep making music that got people to move." Now, with her major-label debut EP on the way, she's about to shine like never before in 2020.