NYC'S AURORA ANTHONY RELEASES NEW SINGLE AND VIDEO "CARTIER"
5301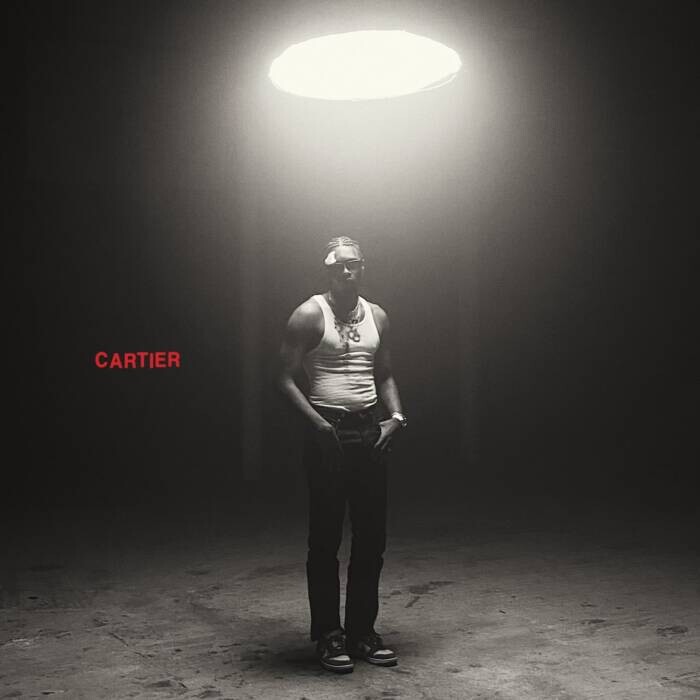 Stream "Cartier" HERE via Heavy Sounds Lab.
The new single "Cartier" is a braggadocious summer jam. As Aurora's distinct gruff baritone flows over the spacey beat he flaunts, "Used to drive Hondas, I took you from Hummers / Now you in Audis and 'Raris this summer." The cinematic black and white video which pairs with the song was shot by Jonah Schwartz. It captures Aurora recovering from battle with flashy resilience as his signature wolf imagery peaks through the shadows.
Of the song and video, Aurora Anthony says,""Cartier" is a vibe, it's like the song that could start a playlist at any function. People have been telling me I'm too humble and it's time to turn up. So "Cartier" is kinda my answer to that criticism like "OK lemme talk my shit then." I'm always focused on what's next so it was fun for me to take a sec and flex a lil on how far I've come and the fly life I get to live. The video is meant to show that uphill climb. It's part of a longer short film where I get beat the fuck up – literally, I fought a boxer in the basement of an old building. The whole visual is minimal on purpose – black and white, and no drip for once, ha, just me in an undershirt and jeans. I wanted people to hear my words, focus on the way the song makes them feel. No frills kinda thing. Raw. Me."
This is the Lower East Side native's first release in partnership with Heavy Sounds Lab founded by Atlanta-based music veteran Jason Geter, who is behind "Grand Hustle" and remarkably credited for discovering T.I. and Travis Scott. It arrives on the heels of his 3-song sampler Do 'Em Dirty released in 2020.
Stay tuned for more new music to come on Aurora Anthony's forthcoming debut album. For now catch a dose of his flex-worthy lifestyle with "Cartier."
More About Aurora Anthony
Ask Aurora Anthony what he does and he'll answer "art." If he's not recording music, designing clothing, bombing graffiti, or making plush toys and 3D-printed chrome sculptures, he's being tapped by brands like Nike, Jordan, New Balance, and Ray-Ban to bring them what every brand is looking for: a stamp of approval from New York City's "cool" kid. Put simply, he's the influencer's influencer; from his lifestyle company 100 WOLVES hitting Beyonce's 2020 list of Top Black-owned Brands to Follow, catwalks at Paris Fashion Week, billboards for Guess Brand, and model spreads in Vanity Fair, Financial Times, and Elle Magazine. Coupled with two international tours with the late Chynna Rogers, this cult-like following has garnered him independent streaming success, like "Field Trip," which Future heard and hopped on, and "Broncos," which released over the 2020 pandemic and now has over 1M Spotify streams. Let Aurora Anthony's upcoming debut album mark his arrival and what's taken him to get here – getting lit off being himself and doing it himself, while trying to make his father proud.
Follow Aurora Anthony on Instagram, YouTube, and Spotify.