Nyck Caution Shares Video with Kota The Friend, Announces 1/15 Anywhere But Here LP
8446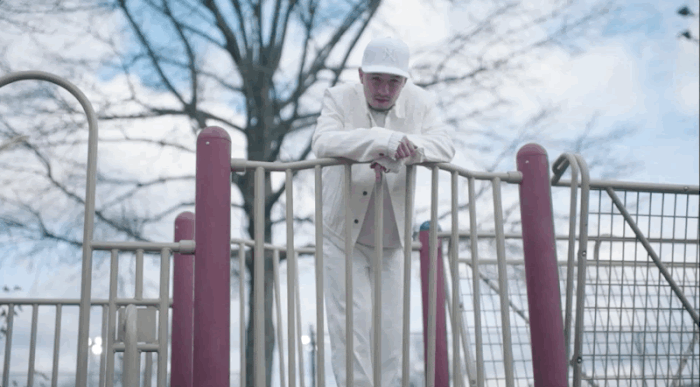 Steeped in the culture of his home borough, Anywhere But Here reverberates with booming bass notes and crisp percussion, delivering a spin on classic NY rap sounds seasoned with Nyck's wry sense of humor and incisive storytelling. The project is home to "How You Live It," a hard-hitting new single with an appearance from Nyck's Pro Era cohort Joey Bada$$. Featuring further guest spots from Denzel Curry, Kota The Friend, GASHI, TheMind, CJ Fly, Elbee Thrie of Phony Ppl, and more, Anywhere But Here arrives on January 15th via Pro Era Records/ADA Worldwide.
Along with the announcement of the album, Nyck Caution shares "Product Of My Environment," his new single and music video. Boasting a bouncy, jazz-influenced beat from Freddie Joachim, "Product Of My Environment" finds Nyck sharing his origin story, revealing how he got his nickname from his dad and recounting how he made sure people knew his rap ambitions were deadly serious. The song features standout guest verses from Kota The Friend and Erick The Architect, as they get personal in story-telling, explaining the way their individual communities and circumstances shaped who they are today. Directed by FAKEDELL, who also directed the real estate-themed clip for "How You Live It," the video for "Product Of My Environment" dramatizes the stories told by the three emcees, offering imagery that corresponds with their detailed lyrics.
Born and raised in Brooklyn, Nyck Caution made a name for himself as a member of the Pro Era collective. Impressing with his crystal-clear bars and malleable flows, the 26-year-old rapper became a fixture of the NYC rap scene in the 2010s, appearing on projects by Joey Bada$$ (including the popular 1999), as well as Beast Coast's Escape From New York and A$AP Mob's Cozy Tapes Vol. 2. He connected with Pro Era producer/rapper Kirk Knight for Nyck @ Knight, generating tens of millions of streams on Spotify alone. This summer, Nyck showed a new side of himself with the Open Flame EP, which earned coverage in Complex, NME, HotNewHipHop, and more. The proper follow-up to his solo 2016 debut Disguise The Limit, Nyck is ready to establish himself as an artistic force with Anywhere But Here.
Pre-save Anywhere But Here: https://proera.ffm.to/anywherebuthere
Watch "Product Of My Environment" ft. Kota The Friend & Erick The Architect: https://proera.ffm.to/productvid
Buy/Stream "Product Of My Environment" ft. Kota The Friend & Erick The Architect: https://proera.ffm.to/product
Anywhere But Here tracklist:
1. December 24th (ft. Elbee Thrie)
2. Anywhere But Here (ft. Maverick Sable & Alex Mali)
3. Motion Sickness
4. Vin Skit #1
5. How You Live It (ft. Joey Bada$$)
6. What You Want (ft. GASHI)
7. Dirt On Your Name
8. Vin Skit #2
9. Bad Day (ft. Denzel Curry)
10. Coat Check/Session 47
11.  Product Of My Environment (ft. Kota The Friend & Erick The Architect)
12. Things Could Be Worse (ft. CJ Fly & Jake Luttrell)
13. Something To Remember Me By (ft. TheMind)
14. Kids That Wish
The pages of a notebook hold the past, present, and, sometimes, the future. Long before joining popular hip-hop collective Pro Era, logging over 10 million streams, and receiving acclaim from Vibe, DJ Booth, HipHopDX, and more, NYCK Caution inscribed his eventual moniker in the pages of a high school notebook. It served as a self-fulfilling prophecy as his raw rhymes and magnetic melodies powered one fan favorite project after another, leading up to his 2020 Open Flame EP [Pro Era/ADA] and forthcoming full-length debut.