$NOT & Lil Skies Connect for the Cole Bennett-Directed "Whipski" Video
6695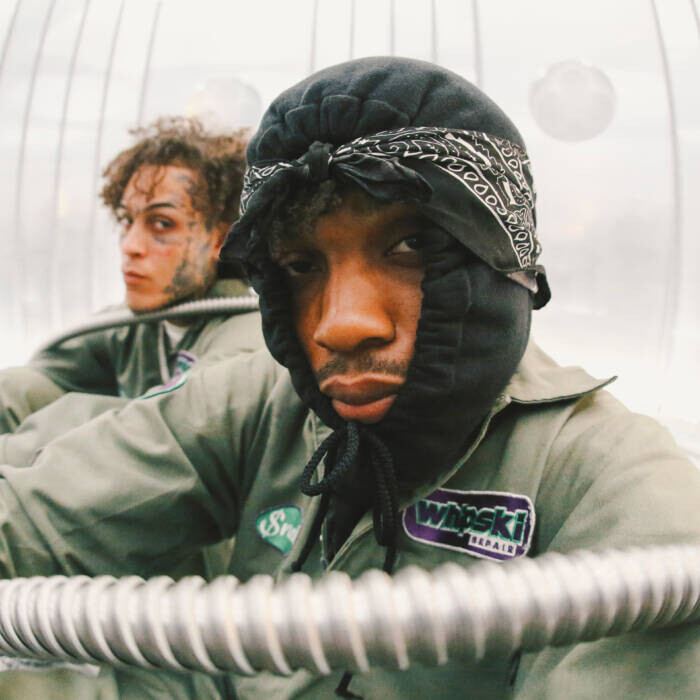 Directed by Cole Bennett, the video for "Whipski" features the Lyrical Lemonade auteur's signature dynamic storyline and kinetic visual effects. The video kicks off with $NOT and Skies working for an abusive boss (who you might recognize from $NOT's Bennett-directed "Revenge" video) in an auto repair shop, before they decide to take their job and shove it. The rest of the video follows Skies and $NOT on a high-speed trip, as they transform their run-down van into a BMW. On their joyride, $NOT and Skies encounter beautiful women in green wigs, aliens in a UFO, and catch a brief glimpse of Landon Cube, who waves at them when they drive by. "Whipski" is the third collaboration between $NOT and Cole Bennett, and it loosely follows a storyline established in "Revenge" (9.5 million views) and "Mean" ft. Flo Milli (7.7 million views). Last night, $NOT and Cole Bennett discussed the video in a Twitter Spaces conversation, hosted by Complex.
"Whipski" is $NOT's first new song since the October 2020 release of Beautiful Havoc, his latest project. Taking his songwriting to a new level, Beautiful Havoc interrogates the 22-year-old rapper's pain, digging into the betrayal and hardships that shape his prickly and misanthropic persona. With production from the likes of Powers Pleasant, Eem Triplin, Woodpecker, and more, Beautiful Havoc offers a bright and diverse sonic palette, allowing $NOT to showcase his elite melodic instincts and provide a contrast to his dark, self-hating lyrics. Beautiful Havoc hosts several well-received singles, including collabs with iann dior and Denzel Curry, and is home to "Mean" (35 million Spotify streams), the Flo Milli-featuring slapper that inspired a viral trend on TikTok (over 700k combined video creations). Beautiful Havoc is available everywhere via 300 Ent.
"Whipski" arrives as $NOT prepares to return to the stage for the first time since February 2020 for a short-run tour in his home state of Florida. Though he performed songs from Beautiful Havoc during a Rolling Loud Loud Stream, the upcoming dates mark the first time any songs from the album will be performed in a truly live setting. The upcoming 4-date tour makes stops in Tampa, Orlando, Jacksonville, and Lake Park.
Always ahead of the curve, $NOT will be dropping an NFT on Friday, April 9th, exclusively on Zora, to coincide with the release of "Whipski." Stay tuned for more music from the 23-year-old rapper very soon, as he continues his superstar trajectory.
Watch "Whipski" ft. Lil Skies: https://youtu.be/Et6RbSRQsps
Buy/Stream "Whipski" ft. Lil Skies: https://snot.ffm.to/whipski
Buy/Stream Beautiful Havoc: https://snot.ffm.to/beautifulhavoc