Nightmare Near Peachtree St: The Atlanta Hawks Drop Two Straight to Miami Without Trae Young Losing Tonight (106-97)
113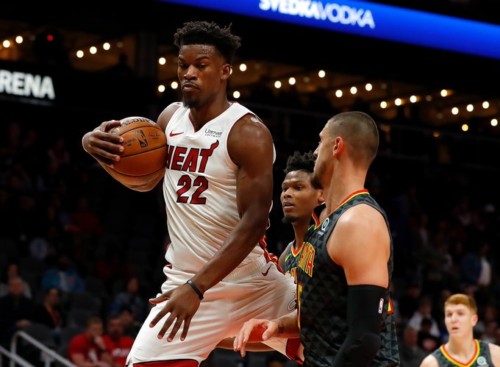 The Atlanta Hawks were back in action on Halloween night as they hosted the Miami Heat at State Farm Arena.
For the Hawks, it was a chance to show the NBA world just how good they are as the game was televised on TNT.
Unfortunately for Atlanta, they came into the game with a chip on their shoulder as they were set to play without their star player Trae Young.
With Trae Young out, Hawks rookie Cam Reddish got the start at the point guard position on Thursday night. Cam Reddish started out in the first quarter finishing with 4 points and 2 assist.
LMAO The Hawks "6th Man" section are chanting "Teammates Hate You" to Jimmy Butler while he shoots foul shoots#TrueToAtlanta

— Terrell Thomas (@Eldorado2452) November 1, 2019
For much of the first half, the Hawks looked lost with out Trae Young but they settled down in the second half and buckde down on defense. After trailing by 13 points, the Hawks put together a run toward the end of the third quarter/ beginning of the fourth to cut the Heat's lead to (85-81) with 10:20 remaining in the 4th quarter.
The Hawks never got the game closer then within 4 points and late in the fourth quarter, the Heat ran away with the game. For the Heat, undrafted rookie Kendrick Nunn finished with a career-high 28 points. Tyler Herro finished with 17 points and 4 rebounds. Jimmy Butler finished the game with 5 points, 9 rebounds and 11 assist.
For the Atlanta Hawks, the leading scorer of the evening was Jabari Parker who dropped 23 points along with 8 rebounds. DeAndre Bembry finished the night with 18 points, 10 rebounds and 8 assist. The Atlanta Hawks have a few days off and they will return to action on Tuesday November 5th as they host the San Antonio Spurs.