Luh Kel and Trippie Redd Team Up For Intergalactic Music Video, "Feen" / L.O.V.E. (Deluxe) Out Today
92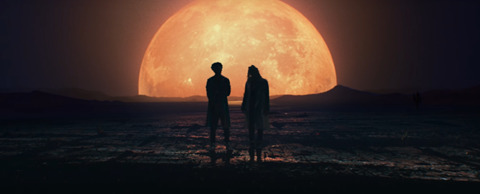 In this intergalactic and mythologic video, Luh Kel is met by a woman that is out of this world. The R&B artist is tested through trials of bee swarms, floods and the scorching desert temperatures to test his addiction for this goddess-like muse. Kel taps Trippie Redd and the two find themselves in an enchanted cave surrounded by more muses that become equally entranced by the duo's iced out jewelry and smiles.
"Always from the jump, I knew 'Feen' was going to be a hit. I was in the booth with Scott Storch and we were just cooking up – we knew it was going to be a big song," Luh Kel said. "When we were shooting the video, we wanted to capture that feeling of the highs and lows that come with love. And it was awesome shooting and recording with Trippie, he made the whole thing even better."
Released last month, L.O.V.E. shows Kel evolving into a young adult as he comes to terms with the symbiotic relationship that love and loss have with each other. To date, L.O.V.E. has gained over 350M+ streams across all platforms and has earned acclaim from the likes of Genius, Complex and Billboard, who noted, "despite being only 18, Kel's maturity and outlook on love shine through on his 14-track collection."
L.O.V.E. takes the listener through a journey with Kel with tracks like "Perfect Time" – a mature track that speaks to the sensual side of relationships – and "Real," the Scott Storch-produced single that showcases the duality of love. L.O.V.E. Also includes "Want You," an earnest song complemented by Queen Naija, as well as the playful "All In You." 
At only 18 years old, St. Louis native Luh Kel has earned himself the title of frontrunner in a pool of rising R&B talent. Grinding steadily since his early teens, Luh Kel burst onto the scene last year with "Wrong" – the Jonnyshipes-produced single, his first, found its way onto the Billboard Hot R&B / Hip-Hop Songs chart almost immediately after its release, was certified Platinum by RIAA and was accompanied by a viral TikTok dance challenge. His next two tracks – "BRB" and "Pull Up," another Johnnyshipes-produced song – followed similar success, with both singles certified Gold by RIAA.
2019's mixtape Mixed Emotions continued to draw new listeners, with tracks like "Movie (feat. PnB Rock," earning millions of streams on all platforms. The mixtape led to an opening slot on tour with Polo G, as well as a feature on Quando Rondo's "Dripped Out." His music has earned him praise from the likes of Billboard, Complex, FADER, Pop Dust, the St. Louis Post-Dispatch and The New York Times, who called him "promising and disarming."