Hip Hop Was The Most Popular Genre In 2017
42
For the first time ever, Hip Hop is king.
R&B/hip-hop has passed rock to become the biggest musical genre in the U.S. in terms total consumption, according to Nielsen Music's 2017 year-end report.
R&B/hip-hop is 24.5 percent the total market, followed by rock (20.8 %), pop (12.7 %) and country (7.7 %).
Eight the top ten artists for total consumption in 2017 came from R&B/hip-hop.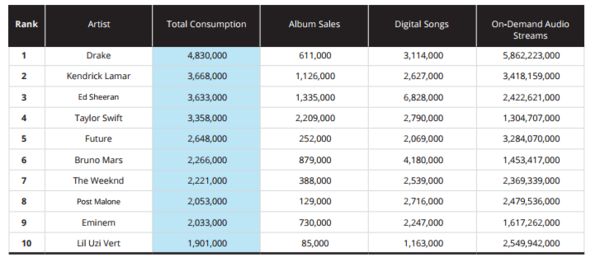 As for just album sales …
Ed Sheeran's Divide was the most popular album the year with 2.8 million album equivalent units. It was followed by Kendrick Lamar's Damn. (2.7 million), Taylor Swift's Reputation (2.3 million), Drake's More Life (2.2 million) and Bruno Mars 24K Magic (1.6 million).
Do you think Hip Hop's reign will continue into 2018?