FRENCH MONTANA returns with "FWMGAB" – video out now!
4464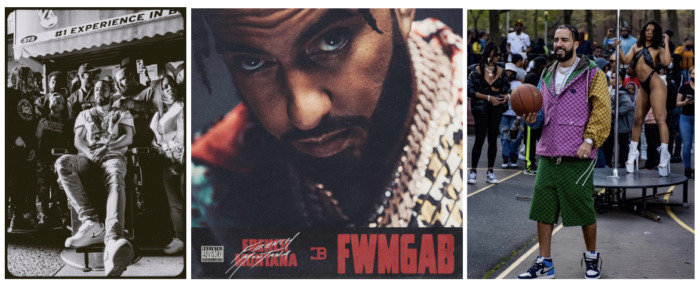 Flipping the horns from Omar Alfanno's "Amores Como el Nuestro" into a classic New York summer anthem, "FWMGAB" (which stands for "Fuck Wit Me Get A Bag") showcases French Montana as his best. The rap superstar unloads energetic bar after bar over a head-nodding beat, bringing back the braggadocio tenfold, boasting "fuck wit me, get a bag." In the accompanying visual directed by Edgar Esteves [Lil Baby, Roddy Ricch], he makes a homecoming to The Bronx at Mott Haven Houses, welcomed by almost the entire hood. Matching the song's raw and high energy, folks bust a move and sing along as French holds court before rapping atop Lady Liberty. It's New York through-and-through.
"FWMGAB" paves the way for his anxiously awaited fourth full-length album, set to arrive this summer. For the record, French fully embraces his roots, showcasing a verbal dexterity and unpredictable flows that established him as a star in the first place. As such, he assembled a formidable body of work, illuminating his diverse musicality and indisputable knack for a banger, without forgetting where he came from.
Most recently, French Montana released the CB5(Coke Boys 5) mixtape, his latest in a series of career-defining projects, while he graced the cover of XXL to open up about his journey thus far and this new phase in his celebrated career. He also reached another high watermark in 2020, eclipsing over 13 billion combined career streams (as reported by Variety).
In addition, French Montana continues to evolve as a brand ambassador and mogul as the current spokesperson for underwear brand Ethika in a multi-year deal.
Now, with his latest album, French Montana is reminding everybody of his greatness. Stay tuned for more soon.
About French Montana
Some artists blur genres, but French Montana blurs borders. His inimitable fusion of classic East Coast rhymes, wavy pop swagger, and international ambition elevated him to the forefront of the game on a global scale. 2017 saw him ascend to superstar status with the blockbuster smash ""Unforgettable" feat. Swae Lee], which cemented him in the "Billion Club" for streaming and earned a nine-times platinum certification from the RIAA. Meanwhile, his sophomore effort, JUNGLE RULES, went and dominated the charts and his 2019 album MONTANA was certified gold immediately upon release. He closed 2020 with the release of the long-anticipated CB5 (Coke Boys 5) mixtape, continuing a legacy he started over a decade ago.
At the same time, he has left an indelible mark on communities around the globe. In addition to becoming the very first rap ambassador of Global Citizen, he staunchly supported humanitarian efforts, spanning DACA, the viral Mama Hope #UNFORGETTABLE Dance Challenge, which raised over $500,000-plus, and his Pan-African health and education movement into Morocco with Care Morocco. 2018 also saw him become a U.S. Citizen after emigrating to the South Bronx from Morocco at just 13-years-old.
If anyone can not only change music, but the world at large, it's French Montana.
Follow French Montana:
http://www.frenchmontanamusic.com
http://www.facebook.com/FrenchMontanaOfficial/
http://www.instagram.com/frenchmontana/
http://www.youtube.com/user/FrenchMontanaVEVO