Farruko & CJ Drop Bilingual Drill Anthem "Love 66"
4278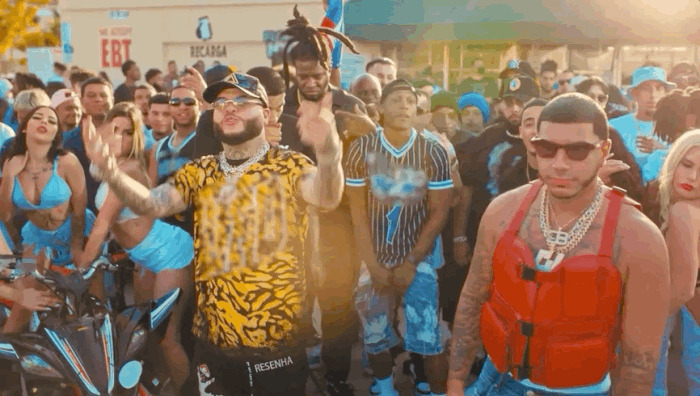 Stream the song HERE
"CJ is at the top of his game right now and I am a fan of what he is doing for the genre so it was an organic connection with this collaboration. We brought different aspects of our cultures together and our styles compliment each other's flow and that is clear when you listen to the track." comments Farruko.
"Working with Farruko was super dope, very easy working with him. The vibe and energy in the studio was great," shared CJ. "What appeals to me the most about working with another Latin artist is our cultural connection, we come from the same background and can relate on many different levels, which makes it easier when creating a record."
Produced by KPRA films and directed by Jose Paolo "Jolo" Sanchez, the video finds Farruko and CJ commanding a massive crowd in iconic Miami locations, including the Guerrero supermarket, Jose Marti Park, and Little Havana Projects. The video gets its power from Farru's charisma, emphasized in close-up shots and enhanced by the vibrant sun of the daytime scenes and the stark contrast in the night scenes. "Love 66" will appear on La167, Farruko's upcoming album, due to release later this year via Sony Music Latin / Carbon Fiber Music Group.
Watch the video HERE
Earlier this year, Farruko joined forces with fellow icons Myke Towers and El Alfa to release his first ever double feature release titled "Premium." The first track, "Oh Mama," features Towers and showcases a sultrier side of both performers as they weave a story that details their intense attraction to their leading lady. With "XOXA," Farruko teams up with the king of Dominican Dembow, El Alfa, for the ultimate breakup song, which continues to showcase his musical versatility as an artist. Prior to his to the release of his "Premium" double single, Farruko was enjoying the colossal success of his hits "La Toxica," which took the No.1 spot on Billboard's "Latin Airplay" chart and it's subsequent follow-up "La Toxica (Remix)" alongside Towers, Sech, Jay Wheeler, and Tempo. Both songs saw the Puerto Rican hitmaker and musician garner over 350 million global DSP streams and over 266 million views. Farruko will appear on the recently announced soundtrack for F9, the upcoming Fast & The Furious film, performing "Rapido" with Myke Towers, Amenazzy, and Rochy RD.
The Puerto Rican singer-songwriter is looking to continue building upon the success he has built up in his lengthy career that started with the release of his first album in 2009. With his next project La167, the follow-up to his smash hit 2019 album Gangalee, Farruko will continue to develop music that stays true to his signature sense of creativity and ingenuity, aspects that have led him to cement his indelible mark on the genre with songs that have become certified hits and global anthems among his millions of fans.
official site | instagram | spotify | youtube | facebook | twitter