Born Allah – Analog Baby (EP + Video)
3193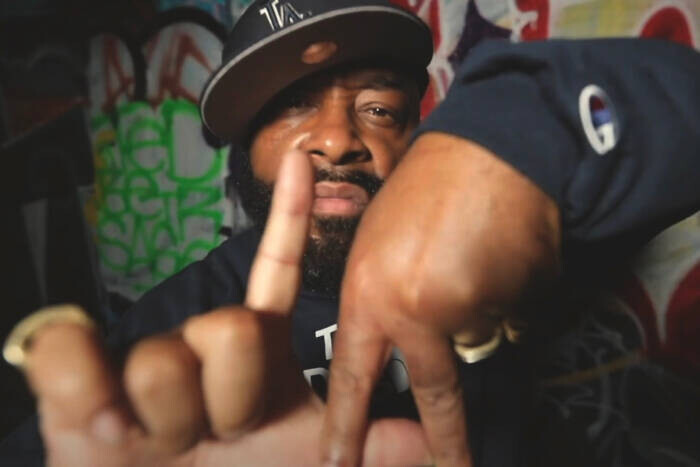 "This is me having fun spitting again," Born says. "I'm an analog baby in a digital world." His upbeat, unfettered love for the culture comes through immediately when you hear the opening track, "Dedication." The DJ Nu-Mark-featured cut is a soulful banger anchored by Born's witty lyricism that blends braggadocio with hilarious self-loathing about being an old head.
And to coincide with the EP's release, Born is sharing the visuals for, "Dedication." The engaging video directed by GuapCityProductions captures the bravado of the track and the rapper himself, who cruises through DTLA as he spits his bars at the camera and celebrates with his crew.
Born carries that energy across the entirety of Analog Baby, and he has the perfect musical partner along with him for the ride. Funny enough, it was the "Dedication" beat that inspired the West Coast emcee to rethink his retirement and work on this EP. "After we talked about it, I sent a stack of beats and Born was hyped," Zpu-Zilla recalls. "I'm so glad I could take him out of retirement for this project, and I hope it was worth it."
To say it was merely "worth it" would be a massive understatement, because Analog Baby does exactly what its creators intended and then some. There's the tongue-in-cheek hilarity of "Heterosexual Blues," the real talk of "Jabril" with Rakaa (of Dilated Peoples), and the autobiographical raps of the title track—and there's still more to uncover on here.
In an increasingly digital and cold world, hip-hop (and music in general) needs minds like Born Allah more than ever. Let's just make sure we all thank Zpu-Zilla for reminding the emcee of his importance, and for stoking that fire.
Analog Baby is available now through all digital retailers and streaming platforms via The Church of Hip Hop & Financial Prosperity.
Stream on Spotify here.