4 PRODUCERS FLIP THE SAME SAMPLE ft. Andrew Huang, !llmind, Simon Servida, and, The Kount
8549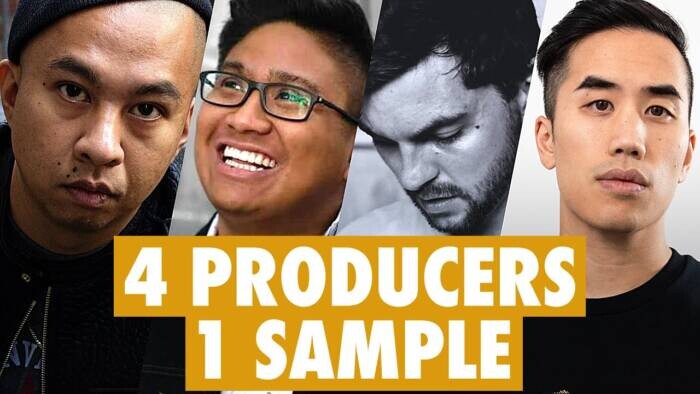 !llmind kicks off the video with a quick intro into a swinging drum groove with chops of the guitar solo from the sample in Propellerhead Reason Software. He then adds a funky bassline and a melody from a mellotron with some chants transforming it into a west coast style feel. He then programs a break with more melodies into an outro with additional trap-style production. The other producers have intense reactions to the musical journey that !llmind created.
Next up Simon Servida serves up the sample whole in the intro and then focuses on the horn melody with FL Studio software. Chopping up the horns with some slapping hip hop infused drums Simon rides the beat into the first breakdown. The break has a funky groove on the Rhodes Piano, bassline, and some other atmospheric effects and ambient FX to fill it in. The next section he loops up the choir and a wah-wah guitar sound with a smooth drumbreak over the hip-hop drums. This break leads into another funky section with trap-infused drums and a wonky pluck sound as the lead. The other producers are floored by bouncy and expansive production.
The next producer is percussion expert The Kount who takes the sample and parts it out in Logic software using select instruments to make his own version. He automates the sample to give it a rhythmic bounce and adds his own hip-hop style drums making a smooth ride for the beginning of the track. He adds some rhodes piano, hi-hats, and then select live percussion instruments to make the minimalist track sound fuller. He then takes an analog tape machine and manipulates it adding weird arp style effects to the beat. The producers happily react to the lo-fi inspired beat with nothing but love for The Kount and his production style.
The last beat is from the host Andrew Huang who uses the submix of the sample instead of digging into the stems. He then layers his cuts of the sample into Ableton software and adds pieces of the existing audio to fill it out including drums also from the sample pack. Using a bunch of different sound design techniques Andrew Huang re arranged the sounds to make a crazy IDM style electronic track. The other producers are impressed by the sound design and are taken by the electro styles used in the beat.
Overall this video proves that there is no wrong or right way to use a sample and that no two producers use the sample the same way. Check out the video after the jump, let us know what you think in the comments, and stay tuned HipHopSince1987.com for more producer videos soon!